Coweta K-9 unit prepares for next school year
The exercise, located at East Coweta High School, was especially important to complete before returning from school in August.
BY: Katherine Futch
Cpl. Mark Storey has worked in the Coweta County Sheriff's Office for 30 years. For 16 of those years, he served with the K-9 unit as an instructor.
On July 19, Storey facilitated the searches of the lockers with the dogs. This exercise, located at East Coweta High School, was especially important to complete before returning from school in August.
Coweta County's K-9 unit typically has five dogs. However, they currently have four and are awaiting the arrival of another. Dogs generally stay in strength for 7 to 9 years.
However, the physicality of each dog is taken into account in determining how long they work. When they start to show signs of slowing down or if they are injured and do not make a full recovery, retreat is the best option for the dog.
"We're trying to figure out where the dogs will have a quality of life when they retire," Storey said. "But really, the greatest quality of a dog's life is when he is active in the force. When my dog ​​sees me getting ready for work, he is ready and excited to come with me.
The dog's initial training is 5-10 weeks, but this can vary depending on the dog's response. During this training period, their future owner will stay with the dog. The handler is guided by the instructors.
The K-9 training program is intense and, at times, frustrating. But persistence is the key; each dog learns by repetition and association thanks to his master.
After the initial training, the dog is ready to join the unit. However, training will continue throughout their careers. The Coweta K-9 unit conducts maintenance training exercises several times a month. These training exercises should last a minimum of 16 hours per month.
Officers planted the lockers before the dogs were inside the building. The first dog to participate in the exercise was Marc, a 5-year-old Belgian Malinois. As soon as he stepped into the hallway, he pulled his manager, Deputy Dalton Anderson, towards the planted locker.
When he got to the locker, he reported to Anderson that he had found the plant by immediately sitting up and looking at his manager. Anderson rewarded Marc with his favorite toy and a slew of belly massages and kudos.
After Marc played with his toy, he jumped into Anderson's arms. "He's just a big baby," Anderson said.
Rex, a Dutch Shepherd, did the same exercise. He also succeeded brilliantly. Rex's manager, deputy Trent Hastings, said he was the best partner to have.
"He never complains about the radio station on, the drive-thru we go to. He's always ready and happy to help, "Hastings said.
Storey's dog, Justice, is a yellow lab. He is 9 years old and the oldest police dog. Due to his age and personality, Justice sticks to narcotics and avoids tracking.
If the dog handler is at work, so is the dog, unless a medical condition prevents it from doing so. There is always a guard dog or watchdog. Storey said it's rare for a dog not to be used while on duty.
They are required to do something every day that they have a shift. If they do not receive a call, it is the handler's responsibility to exercise with them. At the end of the day, the manager hands out a form indicating what he has been working on, what can be improved and what went well.
When it comes time for a dog to pull back from the force, it can be difficult for the dog. However, they quickly adapt to their new way of life. "A dog's natural instinct is to follow," Storey said. "So we treat them well and show them it's a good thing for them. This is how they enjoy their retirement.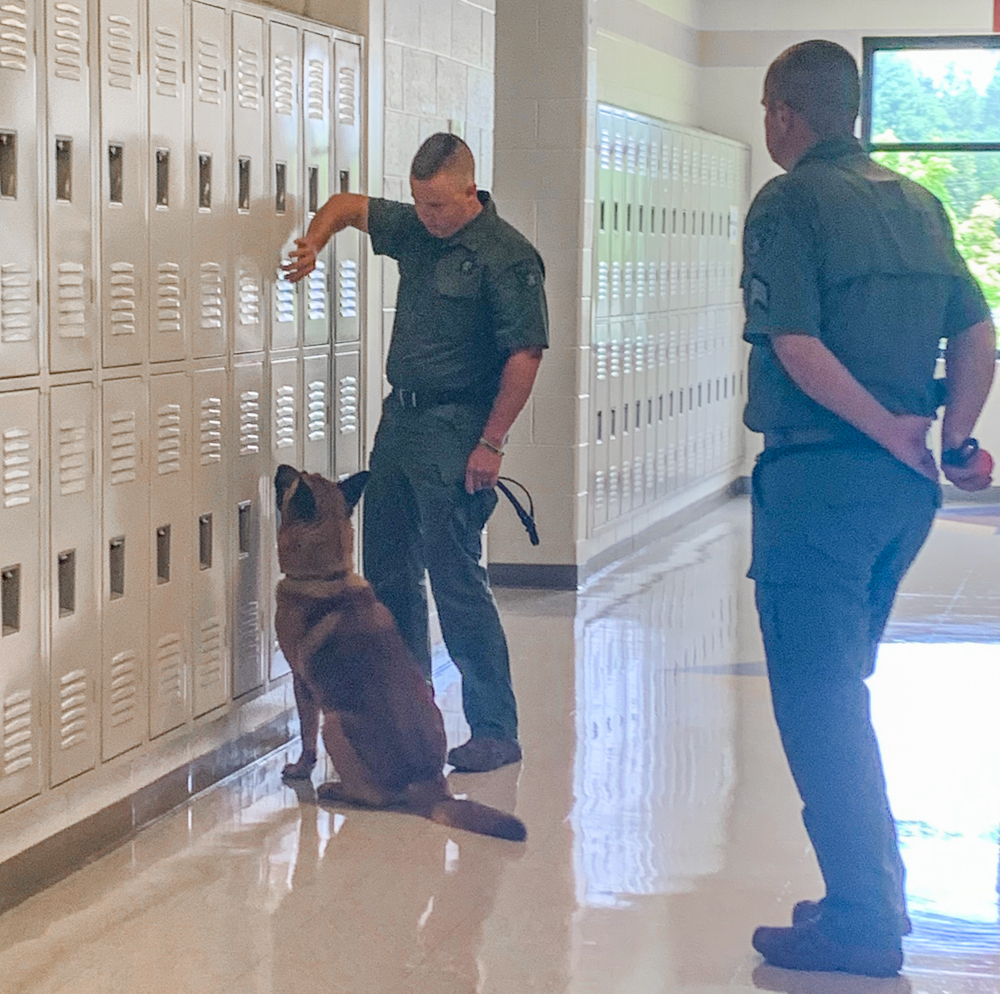 Marc reports to his master, Deputy Dalton Anderson, that he found narcotics during a mock locker search.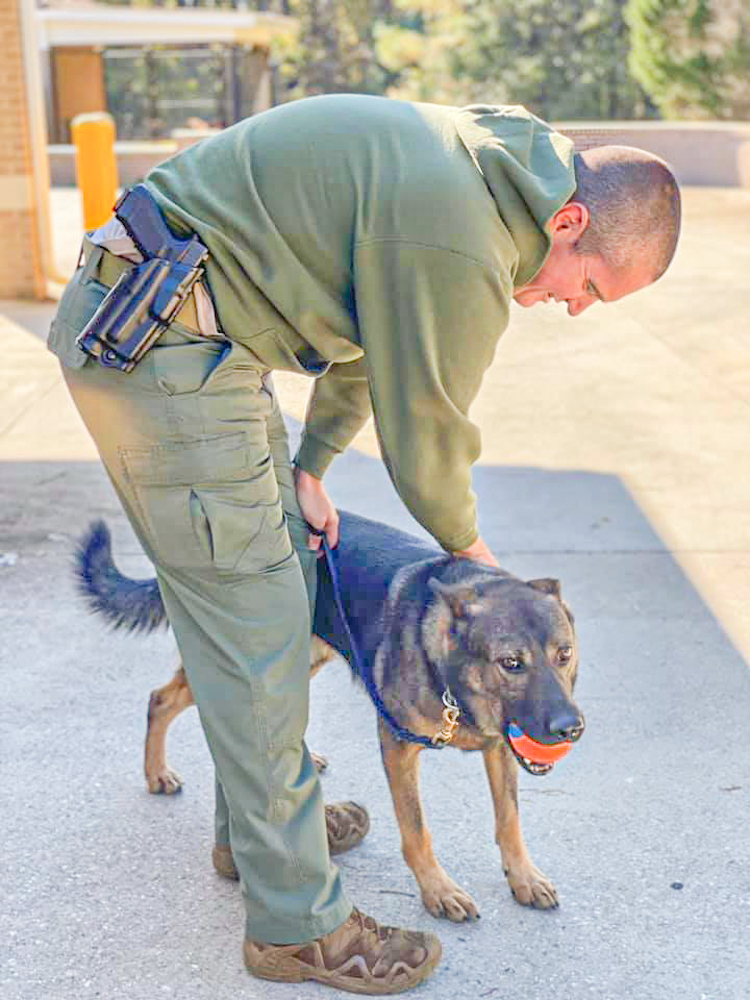 Rex receives numerous belly massages and his favorite toy from his assistant master Trent Hastings after a long day of training.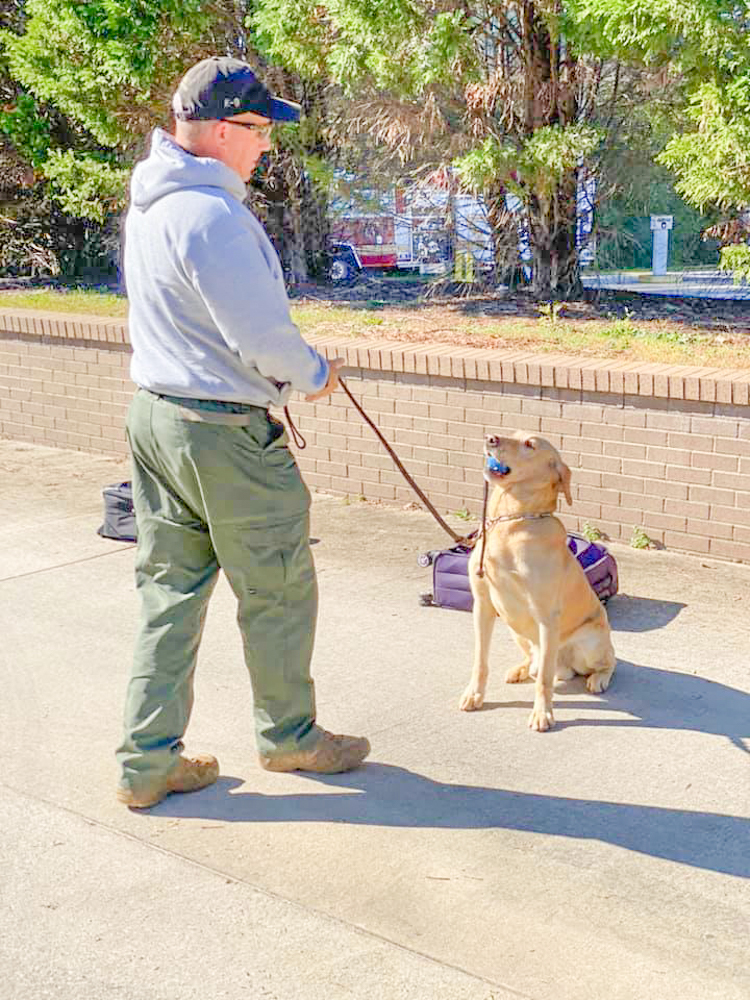 Justice is rewarded by its master, Cpl. Mark Storey, after searching for a suitcase of narcotics.